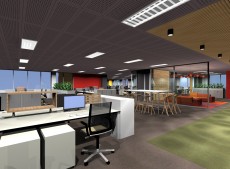 SC Johnson fit-out nears completion

The fit-out of SC Johnson's 2,400sqm Sydney office is nearing the final stages of completion.
Based around sustainability, flexibility and staff collaboration, the design creates a vibrant workplace with opportunities for privacy as well as a high level of visibility and staff interaction. Splashes of strong colours are balanced by a sophisticated selection of textures and finishes. Indoor planting and timber ceiling structures subtly define the different work areas creating a spacious and open environment. Check out the 3D renders below.
We cannot wait to see the finished workspace!